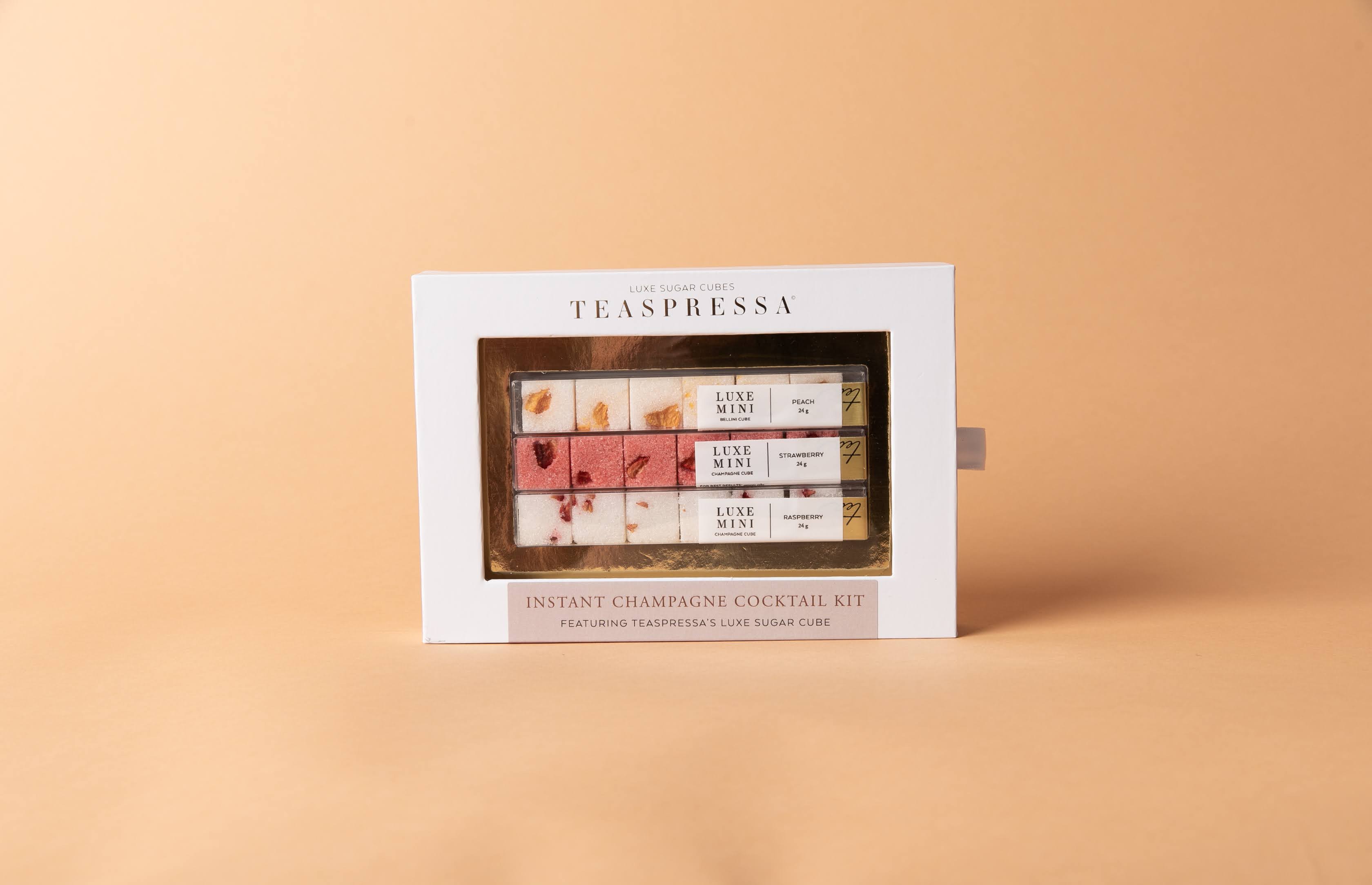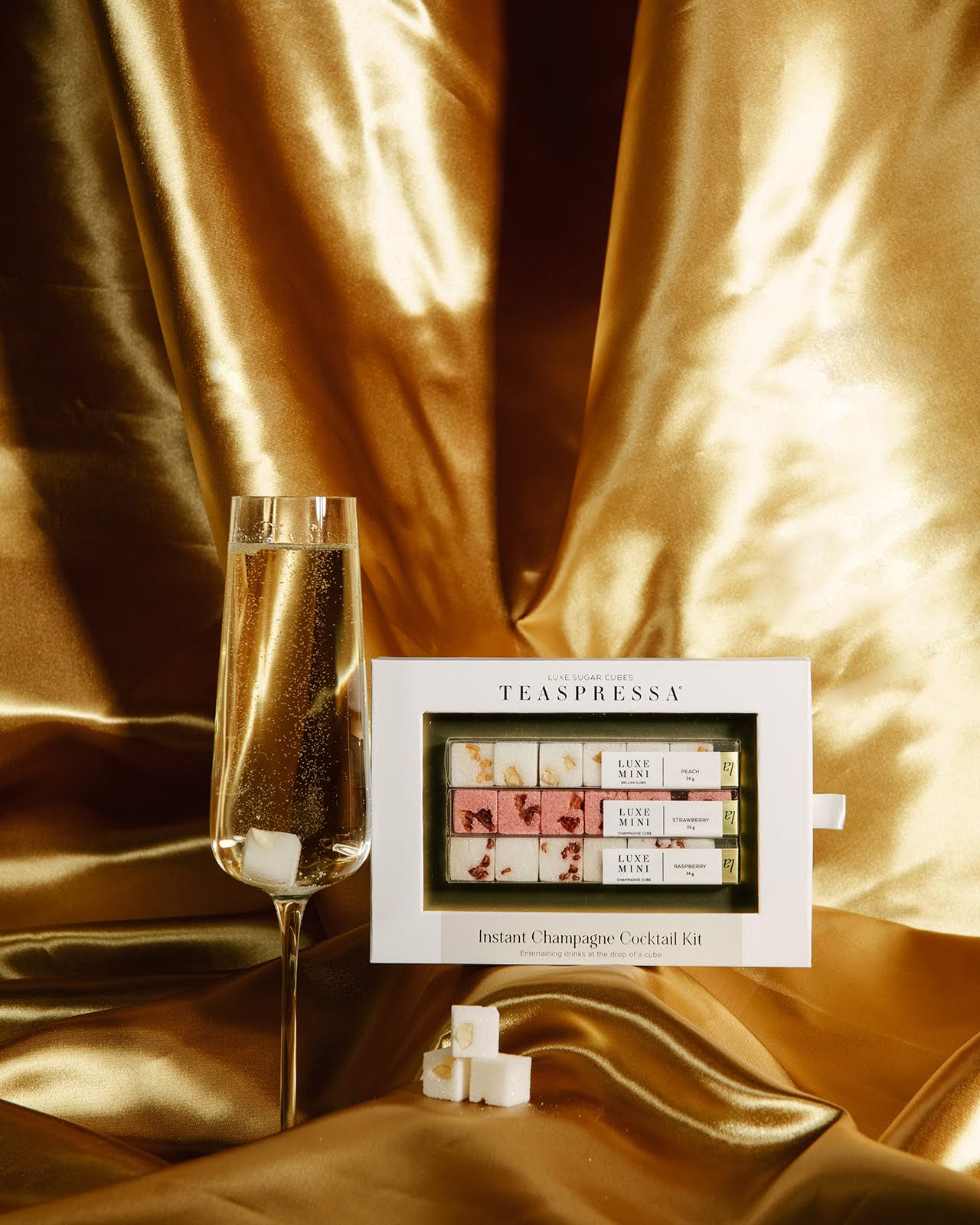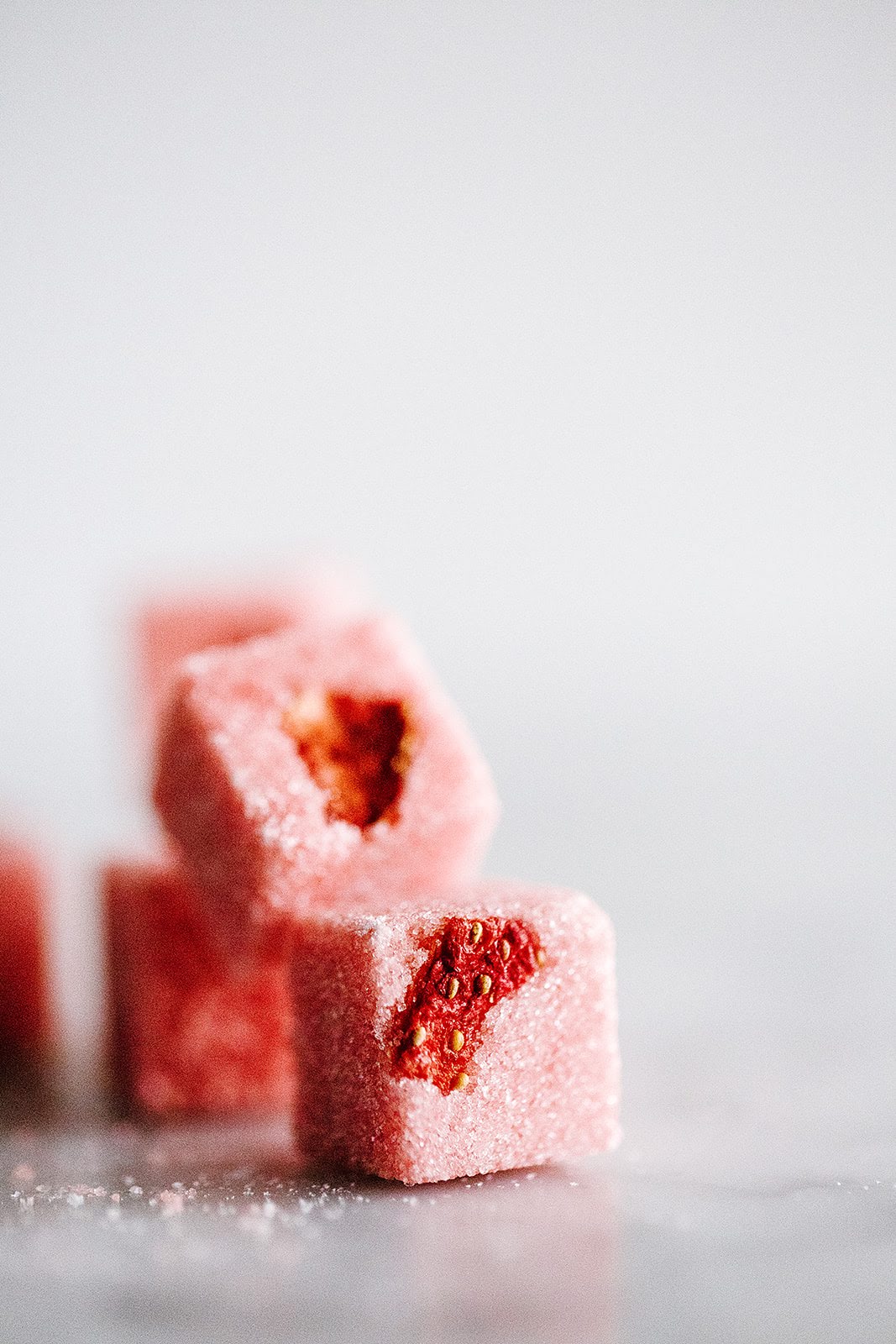 Instant Champagne Cocktail Kit
Description
Instant Champagne Cocktail Kit
Create a mimosa, mocktail, or artisan-flavoured champagne cocktail instantly with our handcrafted, naturally infused flavoured sugar cubes.

Made with all-natural ingredients and containing only 16 calories, enjoy craft bubblies anywhere, anytime!

Set includes three LUXE MINIs: Peach, Strawberry, Raspberry
Recommended with: brut/less sweet sparkling wine, sparkling water, iced teas
Details
Please note that Teaspressa pledges to give each product 110% of effort and to carry high standards in quality control, but even with that in mind, ALL of their sugar cubes are handmade with natural ingredients.

Nature can take its course and with that in mind the sugar cubes tend to have variations whether it be colour, size and shapes of the natural toppings, and form.
Designer
Sav hello to instant crated cocktails with our LUXE
Sugar Cubes by Teaspressa.
Teaspressa has reinvented how you experience and enjoy our favourite drinks with Sugar Cubes

Simply drop one cube into a plain glass of Champagne, Liquor, Sparking Water or tea, watch it FIZZ and dissolve to make a Mimosa, Cocktall, Italian Soda or Barista-inspired flavoured tea.
Ingredients
8 SERVINGS
1 Tsp Of Sugar
16 Calories
---
Instant Champagne Cocktail Kit
How To Purchase
Pay In-Store at South of London
If you're in Barbados, you have the exclusive option of in-store payments. Choose 'Payment on Pickup' at Checkout - this will allow you to pay by Credit Card or Cash when you come to the Boutique.
Online via Credit Card
So you've filled your cart and are ready to checkout. Wherever you are in the world (Barbados, USA, Canada, etc.), you can pay online securely via credit card. We accept all major credit cards, as well as, PayPal. Choose your shipping, local delivery or pick-up option at checkout.
Receiving Your Goodies
Ground Delivery (Barbados only)
If you're in Barbados, we deliver islandwide. Simply choose the 'Ship' option at Checkout, pay securely via credit card then enter your preferred address.
Pickup In-Store
We love to see your smiling faces, so popping into the Boutique is always a good idea.
Choose 'Pickup' at Checkout and either opt to pay in-store or you can checkout securely online via credit card.
Caribbean + International Shipping
We deliver anywhere in the world. Just enter your Shipping address at Checkout.
International Order Tracking
For international deliveries, when your order is dispatched, a tracking number will be emailed to you at the email address provided when you completed your order.