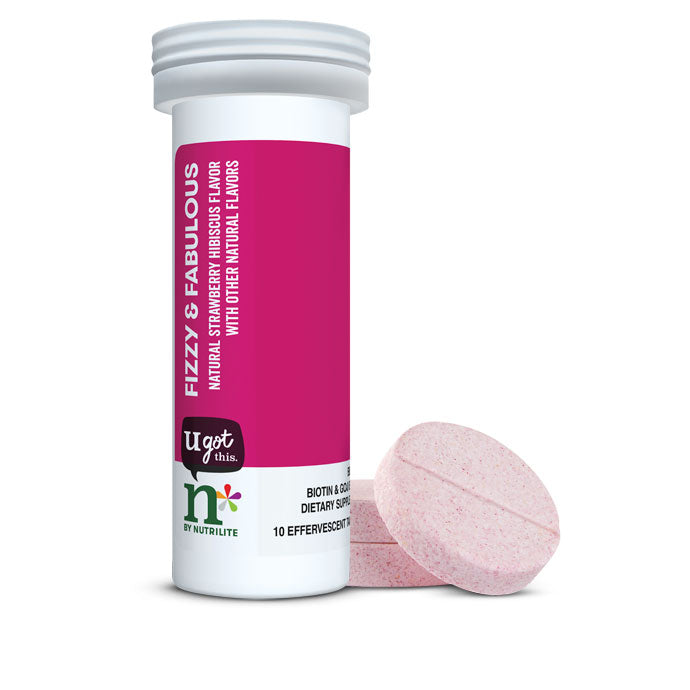 n* by Nutrilite™ Fizzy & Fabulous Effervescent Tablets
Description
BEAUTY'S BUBBLY BESTIE – help promote healthy-looking skin, hair and nails.†
Let your inner beauty bubble out and sparkle - because you're a fierce, fabulous force of nature. Just add an effervescent tablet to water to mix up a fizzy, refreshing, strawberry hibiscus-flavored drink. Made with biotin, goji berry and a blend of beautifying vitamins to help promote gorgeous hair, strong nails and healthy-looking skin from within.†
Cheers, gorgeous – you've got it, so bubble up and flaunt it!
Details
10 tablets
Use Instructions: Dissolve 1 tablet in 8–16 ounces of water and consume once per day.

- Goji berry helps support skin health†
- Biotin helps support healthy hair, skin and nails†
- No artificial colors, flavors or sweeteners
- Gluten free, non-GMO††, vegetarian, caffeine free and dairy free
- Free from peanuts, tree nuts, fish, crustaceans and shellfish
Ingredients
Supplement Facts

Amount Per Serving % Daily Value
Calories 10
Total Carbohydrate 3 g 1%*
Vitamin A (as retinyl acetate) 600 mcg 67%
Vitamin C (as ascorbic acid) 90 mg 100%
Vitamin E (as dl-alpha-tocopheryl acetate) 10 mg 67%
Biotin 1000 mcg 3333%
Chloride (as potassium chloride) 80 mg 3%
Sodium (as sodium bicarbonate) 260 mg 11%
Potassium (as potassium bicarbonate) 92 mg 2%
Organic Goji Berry Powder (Lycium barbarum) 10 mg †
*Percent Daily Values are based on a 2,000 calorie diet.
†Daily Value not established.

Other Ingredients:

Citric Acid, Sorbitol, Natural Flavors, Fumaric Acid, Stevia Extract, Vegetable Juice (color). Contains Soy.

Contains Soy
---
n* by Nutrilite™ Fizzy & Fabulous Effervescent Tablets
How To Purchase
Pay In-Store at South of London
If you're in Barbados, you have the exclusive option of in-store payments. Choose 'Payment on Pickup' at Checkout - this will allow you to pay by Credit Card or Cash when you come to the Boutique.
Online via Credit Card
So you've filled your cart and are ready to checkout. Wherever you are in the world (Barbados, USA, Canada, etc.), you can pay online securely via credit card. We accept all major credit cards, as well as, PayPal. Choose your shipping, local delivery or pick-up option at checkout.
Receiving Your Goodies
Ground Delivery (Barbados only)
If you're in Barbados, we deliver islandwide. Simply choose the 'Ship' option at Checkout, pay securely via credit card then enter your preferred address.
Pickup In-Store
We love to see your smiling faces, so popping into the Boutique is always a good idea.
Choose 'Pickup' at Checkout and either opt to pay in-store or you can checkout securely online via credit card.
Caribbean + International Shipping
We deliver anywhere in the world. Just enter your Shipping address at Checkout.
International Order Tracking
For international deliveries, when your order is dispatched, a tracking number will be emailed to you at the email address provided when you completed your order.